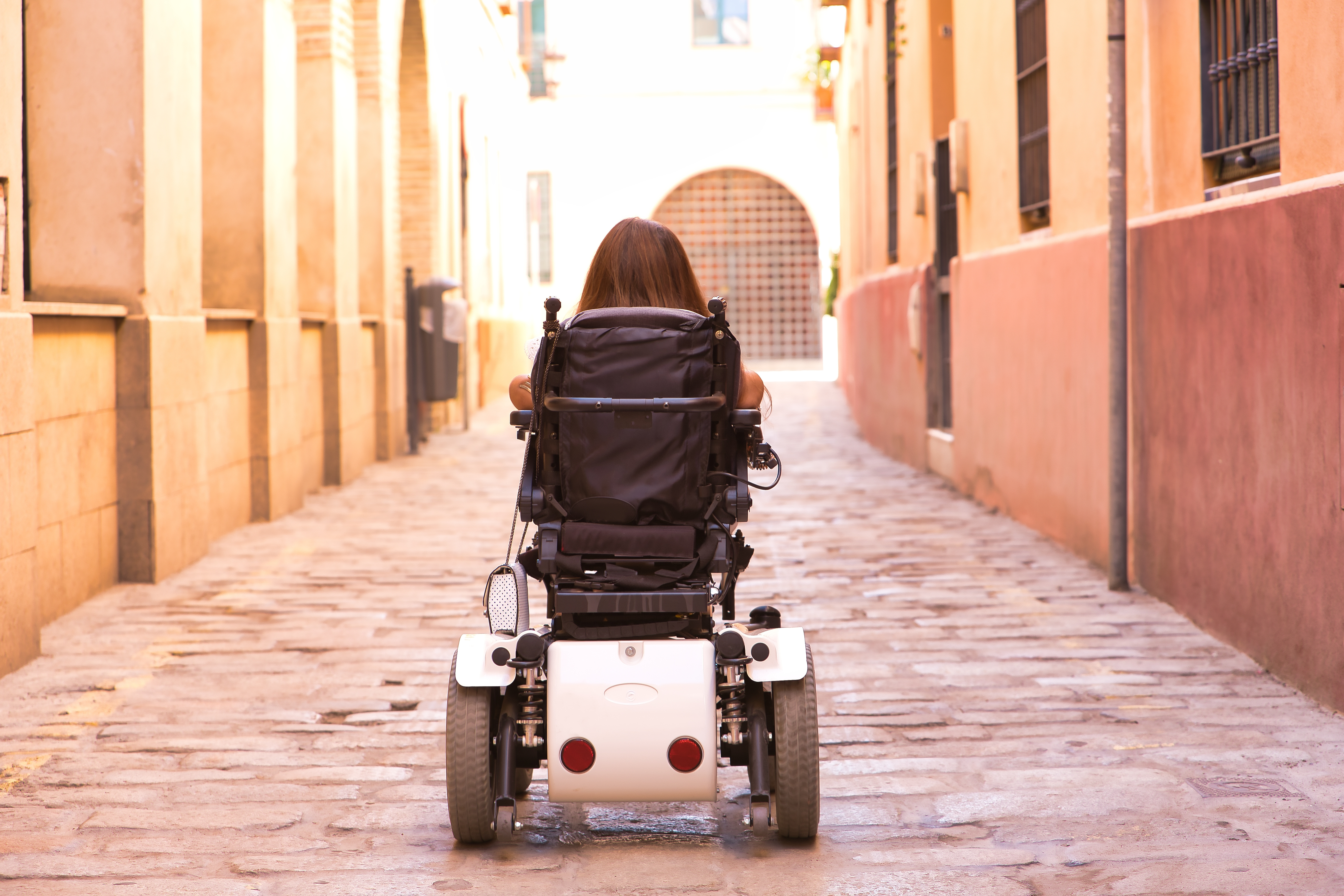 Losing independence and mobility due to medical conditions makes going about your daily life difficult. If you've suffered from a loss of mobility and are looking into different types of wheelchairs, it probably feels very overwhelming.
Manual wheelchairs require upper body strength. Electric scooters aren't built for long-term use. That leaves you with one option — power wheelchairs.
The type of wheelchair you need is entirely dependent on your individual needs and your diagnosis from your doctor. However, it's still beneficial to educate yourself and understand your options.
Our rehab experts break down what a power wheelchair is, what its common features are, and how it differs from other options here.
What Exactly is a Power Wheelchair?
A power wheelchair is a type of wheelchair propelled with an electric motor and battery rather than being pushed, like a manual wheelchair.
It's a mobility device used by people who aren't able to go about their daily life on their own.
Power wheelchairs are made up of:
A base

Four or more wheels, usually two large wheels and two to four smaller wheels for added stability

A joystick used to operate the power chair

Customizable advanced seating systems, if needed

Different drive systems: they can be front, center, rear, or all-wheel drive
Power Wheelchair Seating
One of the best things about power wheelchairs is the custom seating systems available. For individuals with limited mobility, these seating options dramatically improve independence and quality of life.
Options include:
iLevel® - from Quantum Rehab, the iLevel® power chairs allow you to operate the chair while fully elevated at eye level. This makes it easier to get around in grocery stores, restaurants, and navigate crowds.

Standing - Get maximum flexibility and mobility with a standing power wheelchair. With this seating option, the power wheelchair can assist users to go from seated to fully standing.

Tilt-in-space - This seating option can give both the user and caregiver full control over the tilt of the wheelchair. This is great for users who need to relieve pressure on the spine and sit bones.

Tru-Balance 3 Power Positioning System - Another seating option from Quantum Rehab, the Tru-Balance 3 positioning system allows you to fully customize your seating, even while in the chair.

Reclining - Who doesn't want a chair that reclines? This is an option that comes on many power wheelchairs, making it more comfortable for consistent use.
Power Wheelchair Controls
Power wheelchairs have more drive control options than any other mobility device. Typically, power wheelchairs use a joystick as the main method of operation.
If the user is unable to use a joystick, custom controls make it possible to operate the power chair with their mouth, chin, head, or feet. This is another huge plus for power wheelchairs — regardless of your mobility limitations, it's all but guaranteed there is a power chair that fits your needs.
Power Wheelchair Weight
The weight of a power wheelchair depends on what type it is. Power wheelchairs can weigh anywhere from around 33-50 lbs. on the lightweight side and up to 300 lbs. for heavy-duty chairs.
Lightweight power wheelchairs are easier to transport, but don't have high weight capacities and can sometimes be difficult to get covered by insurance. Heavy-duty chairs (or bariatric electric wheelchairs) support higher weight capacities, with some able to support up to 600 lbs.
Power Wheelchair Accessories
Power wheelchairs are highly customizable. Many mobility equipment brands offer a wide range of accessories you can add to your power wheelchair, including:
USB chargers

Cup holders

Storage options, including a glove box or backpack

LED fender lights

Oxygen tank holder

Backpack holder
Power Wheelchair vs Scooter
A lot of people want a scooter instead of a wheelchair. Scooters are great for improving mobility. However, they're best for people who aren't completely immobile and only need a little help maneuvering about daily life.
Most scooter users are capable of transferring to and from the scooter, can easily sit down, and don't have issues operating the scooter.
Mobility scooters are not designed for constant, daily use, but power wheelchairs are. Power wheelchairs are for people with limited mobility to use consistently. There are options to add advanced seating and positioning systems for comfort, plus upgraded controls that allow the user to easily move the wheelchair around without much movement needed on their end.
Plus, one of the biggest differences between mobility scooters and power wheelchairs is insurance coverage. Insurance covers medically necessary mobility devices. While a scooter might help improve someone's mobility, it usually isn't 100% necessary and is therefore ineligible for insurance coverage.
Medicare will cover power wheelchairs that help with your medical needs based on your doctor's diagnosis.
Why Would Someone Use a Power Wheelchair?
Power wheelchairs are used by people who are unable to walk or aren't capable of using a manual wheelchair.
Manual wheelchairs still require the user to have enough strength to propel themselves forward by pushing the wheels. Electric scooters just aren't made for long-term use like a power wheelchair is.
Power wheelchairs aid with severe mobility limitations, providing more customization options, comfort, and flexibility than any other type of wheelchair. When you get a power wheelchair, it's fully customized to your needs.
What Qualifies Someone for a Power Wheelchair?
There are many qualifying diagnoses for a power wheelchair. Figuring out if your diagnosis qualifies you for a power wheelchair covered by insurance is up to your doctor.
Some of the most common diagnoses include:
Multiple Sclerosis (MS)

Parkinson's Disease

ALS (Lou Gehrig's Disease)

Spinal Cord Injuries

Cerebral Palsy

Alzheimer's Disease

Muscular Dystrophy

And many others
How Much Does the Average Power Wheelchair Cost?
The cost of an electric wheelchair varies from a few thousand dollars to over $20,000. Most electric wheelchairs fall in the low-cost to mid-cost range of around $5,000.
The most expensive power wheelchairs are standing wheelchairs, as they require much more technology.
What Do I Do if I Need a Power Wheelchair?
If you decide you need a power wheelchair, you'll first need to talk to your doctor to see if you have a qualifying diagnosis.
You will also need to find an experienced mobility company that can help you through the process of getting a power wheelchair. At Freedom Mobility, we have a team of RESNA-certified Assistive Technology Professionals (ATPs) who will evaluate your needs and build a customized power wheelchair solution.
Want to Know If You Qualify for a Power Wheelchair?
If you live in the state of California, we can work with your doctor and insurance to help you get a power wheelchair.
Contact us today for a FREE consultation to see if you qualify for a power wheelchair!
Electric Wheelchairs
December 14, 2022 by Freedom Mobility
Losing independence and mobility due to medical conditions makes going about your daily life difficult. If you've suffered from a loss of mobility and are looking into different types of wheelchairs, it probably feels very overwhelming. Manual...