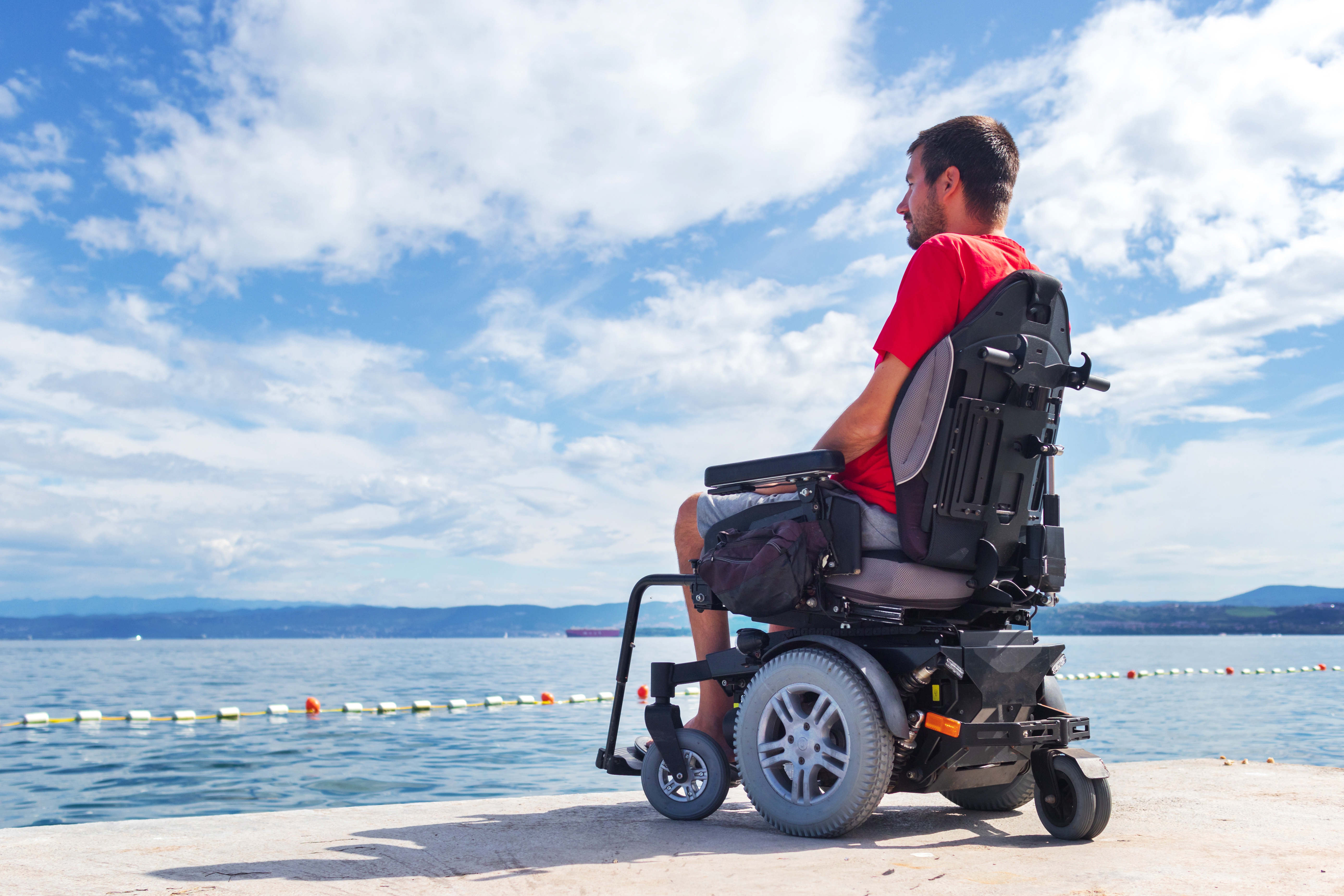 Do you think you need a power wheelchair? You're not alone. Many individuals see huge improvements in their quality of life after getting a power wheelchair.
The good news is that Medicare covers most power wheelchairs. However, the process to get a power wheelchair covered by Medicare isn't always a straightforward one.
You'll need help from:
Your doctor

Your durable medical equipment provider

Medicare
We are an accredited Complex Rehab Technology Supplier who has been serving California since 2007. As experts in power wheelchairs, we've helped individuals obtain the best power wheelchairs for their needs for 15 years.
Here's how Medicare coverage for power wheelchairs works, and what to expect throughout the process.
Qualifying Diagnosis for a Power Wheelchair
The first step to obtaining a power wheelchair through Medicare is to make sure you have a qualifying diagnosis from your doctor.
You'll need to schedule an in-person appointment with your doctor, who will evaluate your medical need for a power wheelchair.
A qualifying diagnosis for power wheelchair insurance coverage can include:
Spinal Cord Injuries

Cerebral Palsy

Multiple Sclerosis (MS)

Muscular Dystrophy

CVA (stroke-related paralysis)

And many others
Your doctor will need to rule out the use of other mobility devices, such as a manual wheelchair, walker, or scooter.
How Do You Get Approved for a Power Wheelchair?
Even if you have a qualifying diagnosis, you have to meet all of the following conditions outlined by Medicare to be eligible:
Your health condition causes significant difficulty moving around inside your home.

You are unable to do regular activities of daily living even with the help of a manual wheelchair, walker, crutch, or cane. This includes bathing, getting dressed, getting in and out of bed, or using the bathroom.

You can safely operate and transfer to/from your wheelchair, or have someone who is always available to help you with these tasks.

The doctor treating your condition accepts Medicare.

The supplier you choose for your power wheelchair accepts Medicare.

Your supplier or therapist has visited your home and verified the equipment can be used in your home. For example, it isn't too large to fit through your doorways and you can comfortably navigate around your home.
The Process of Medicare Approval for a Power Wheelchair
The process of getting a Medicare-approved power wheelchair can seem overwhelming.
However, if you choose a reputable supplier, they should be able to handle everything for you from start to finish without you lifting a finger.
For example, here at Freedom Mobility, you're assigned a dedicated Care Team who works with you, your physician, and your insurance provider to get your power wheelchair covered! (If you're in California, contact us to learn more!)
Here's what the process involves:
Physician Order. The first step is for your physician to write an order for the prescribed equipment and send the prescription over to your DME supplier.

Intake and eligibility. Then, the intake team of your supplier should verify your insurance eligibility.

In-home evaluation. Next, your home will need to be evaluated to ensure it has adequate space for a power wheelchair to easily maneuver around. This requires measuring door frames, space in each room, and potentially even visiting your school or workplace to take measurements if needed. A seating and mobility evaluation with a Physical or Occupational Therapist is also required by Medicare and may be combined with the in-home evaluation, or could be an additional assessment completed at a clinic.

Power wheelchair selection. Your supplier will identify the best power wheelchair that suits your needs, as well as any medically-necessary customizations. Additional research may be required if advanced customizations are needed to ensure insurance coverage is still available.

Physician documentation. Once your power wheelchair setup is decided, your supplier will reach out to your doctor to obtain any remaining clinical documentation needed including: written order, face to face progress notes, concurrence with the Therapist evaluation recommendations, etc.

Insurance authorization. Once all of the required documents are gathered, your supplier will submit a prior authorization request to your insurance. There could be some back and forth here if your insurance requests additional documentation.

Equipment purchasing. After your insurance authorizes what you need, it's time for your DME supplier to order the equipment and any custom components from the various manufacturers involved.

Delivery and fitting. The supplier will set up a delivery and fitting and deliver your new power wheelchair! You'll learn how to use your power wheelchair and have it properly adjusted to your size and needs.
How Long Does it Take for Medicare to Approve a Wheelchair?
Once a PAR (Prior Authorization Request) is ready to submit to Medicare, the DME MAC will respond within 10 business days. However, the entire process from Intake to Delivery is complex and can take 2 - 6 months.
The majority of the processing time goes into preparing the documentation to meet Medicare's coverage criteria before your DME supplier can even get to the stage of submitting a PAR to Medicare. The time it takes also largely depends on many factors such as the length of time it takes your doctor to send your DME supplier the documentation required by Medicare, the length of time it takes to schedule your seating & mobility evaluation with a therapist, the length of time it takes the therapist to send their completed evaluation report to your physician for concurrence and signature, etc.
How Much Does Medicare Pay for a Wheelchair?
After you've met your Part-B Deductible for the year, which is $233 in 2022, you will pay 20% of the Medicare-approved amount for the wheelchair, unless you have secondary insurance to cover your Medicare deductibles and coinsurance.
The amount you pay for your power wheelchair could vary depending on your circumstances. For example, the cost of an electric wheelchair ranges from a few thousand dollars to upwards of $20,000 based on your medical needs.
The Amount You'll Pay May Vary
While the general rule of thumb is you cover your Part-B Deductible and 20% of the Medicare-approved amount, there are a few other factors that could affect how much you owe for your power wheelchair.
This includes:
What your doctor charges

Other insurance you might have

Where you're getting your power wheelchair from

If your doctor (or equipment provider) accepts assignments
For example, if you have a Medicare Supplement plan (also known as a Medigap plan) or Medi-Cal, these secondary insurances will usually cover your Part-B deductible and 20% coinsurance resulting in no out of pocket expense to you.
What Types of Wheelchairs Does Medicare Pay For?
Medicare covers many different types of manual wheelchairs and power wheelchairs depending on your qualifying diagnosis and medical needs.
Medicare could cover anything from a standard power wheelchair to an extra heavy-duty one (also known as a bariatric electric wheelchair). It all depends on your doctor's decision regarding your medical needs and your insurance's coverage criteria.
The most common type of wheelchair Medicare does NOT cover is a lightweight power wheelchair. These chairs aren't designed for constant use, so they often fail to meet the guidelines required for Medicare coverage.
Finding a Medicare-Approved Supplier
One of the most important parts of the Medicare approval process is finding a trustworthy supplier who will help you through every step of the way.
(Make sure to ask your supplier if they're enrolled in Medicare before you start trying to get your power wheelchair through them!)
Your power wheelchair supplier is responsible for:
Requesting a prior authorization

Putting together your customized power wheelchair setup (if needed)

Sending the equipment request and associated documents to Medicare

Working with your doctor to ensure Medicare has everything they need

Ordering your equipment

Delivering your new power wheelchair, fitting it to your needs, and showing you how to use it
As you can see, the DME supplier you choose plays a huge role in your journey to a more independent lifestyle. That's why it's so important to choose a supplier you can trust and who you know will act timely and in your best interest.
We Help Californians Get Medicare-Approved Wheelchairs
If you're in the state of California, we can help you through the process of obtaining a Medicare-approved power wheelchair.
At Freedom Mobility, we staff a team of Assistive Technology Professionals (ATPs) who are RESNA-certified experts trained to evaluate your needs. They will help you along your journey from start to finish!
Ready to get started? Contact us today!