Why Refer Your Patients to Freedom Mobility Center?
Freedom Mobility brings unique value to Healthcare Providers by providing Complex Rehab Technology (CRT) products and services that are highly customized to improve patient outcomes. As a preferred provider of CRT among leading medical professionals and health plans, we pride ourselves on Delivering the Right Equipment to the Right People at the Right Time... It's What We Do!
With Freedom Mobility, you can expect:
RESNA Certified ATPs on our staff
Customizable Power & Manual Wheelchairs
Health Outcomes Monitoring & Tracking
Electronic Referrals
Same Day Referral Processing
Door-to-Door Services
In-Home Mobility Assessments
In-Home Repair Service
Loaner Equipment
Solutions for Progressive Diagnoses
Accommodation for Deformities
Adaptive Seating and Positioning
Pressure Management Solutions
Custom Cushion Molds
Advanced Electronics and Controls
Dedicated Case Manager Assigned to Every Patient
Insurance & DME Coding Consultation Services
Assistance with Qualification Documentation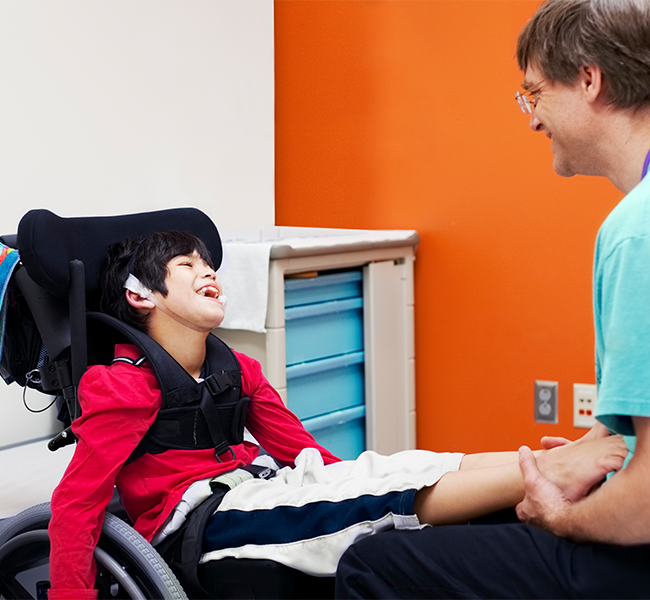 Functional Mobility Assessment (FMA) Outcomes Tool
What is the FMA?
The Functional Mobility Assessment (FMA) is a provider-centric mobility outcomes tool developed by the Department of Rehabilitative Science and Technology at the University of Pittsburgh. It tracks the improvement of a patient's mobility-related activities of daily living after receiving CRT equipment selected by a RESNA Certified ATP. The FMA tracks demographic and seating-related health information such as the device, manufacturer, accessories, falls, transportation, hospitalizations and development of skin breakdown.
With the FMA Outcomes Tool and routine follow-ups by a neutral third-party (U.S. Rehab), any potentially negative health outcomes are identified before they occur, enabling Freedom Mobility to take swift preventative action to ensure a positive health outcome.
The FMA Outcomes Tool provides the following benefits:
Reduced hospital admissions
Reduced occurrences of skin breakdown
Reduced occurrences of falls
Extra monitoring & progress reporting
Achievement of a healthier lifestyle
Substantially more successful recovery
Diminishes patient pain levels
Reduces healthcare expenses
Work with Our RESNA Certified Assistive Technology Professionals (ATPs)
RESNA, the Rehabilitation Engineering and Assistive Technology Society of North America, is the premier professional organization dedicated to promoting the health and well-being of people with disabilities through increasing access to technology solutions. RESNA advances the field by offering certification, continuing education, professional development, and promoting research to meet the needs of our multidisciplinary constituency.
ATPs have been certified as specialists who are trained to evaluate patients for complex rehab technology equipment, including seating and mobility bases. Freedom Mobility has RESNA Certified ATPs on our staff who are highly specialized at configuring custom mobility solutions. Plus, with our Continuity of Care policy, your patient will have the same ATP for the lifetime of their wheelchair which is preferred by patients and essential for ensuring the highest quality health outcome.
How to Refer
To refer a Patient, click the Send Us A Referral icon below: