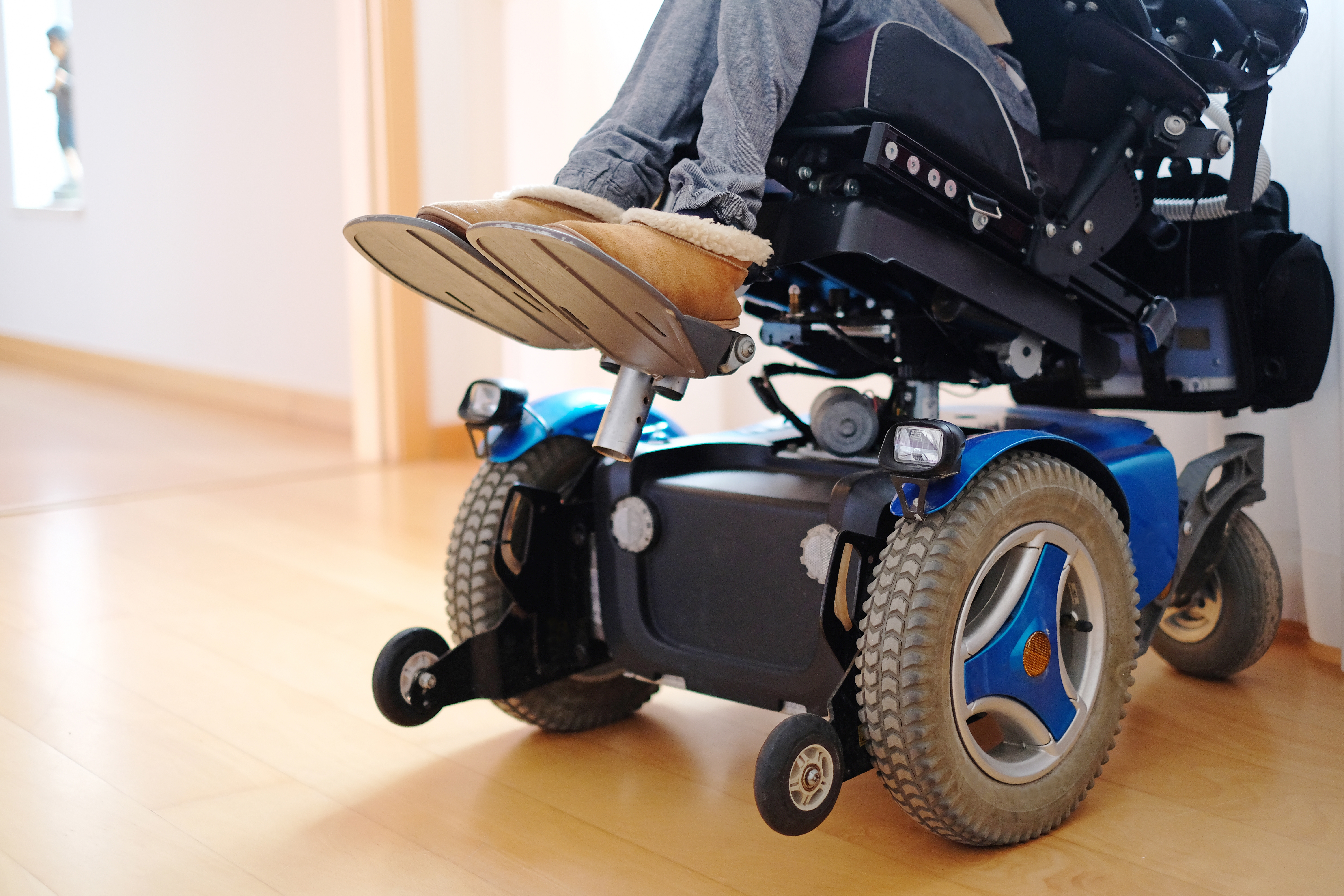 The weight of an electric wheelchair is one of the most important criteria to consider, but it's often overlooked.
Think about how you plan on using your electric wheelchair: How often will you be using it outside of your home? Are you going to be traveling in a vehicle? What about taking trips that require boarding an airplane?
In all of the scenarios above, you'll either need to have someone capable of lifting your wheelchair or someone who can take it apart and transport it piece by piece.
These are just some of the reasons why it's important to pay attention to weight. So, how much does an electric wheelchair weigh? While it can range from as light as 33 lbs to as heavy as nearly 300 lbs, we're going to break down what factors into the weight of a power wheelchair.
How Much Does an Electric Wheelchair Weigh?
Electric wheelchairs weigh between 33 lbs. and almost 300 lbs. There are multiple classifications of power wheelchairs, all with different weight ranges.
Here's a general guideline for how much each type of power wheelchair weighs.
Lightweight Power Wheelchairs: 33-50 lbs.
There are some foldable power wheelchairs that make transportation easy, though they aren't usually covered by insurance.
Lightweight power wheelchairs are best for transportation or light use. They aren't meant for long-term, daily use.
Standard Power Wheelchairs: 51-150 lbs.
This is probably what you're thinking of when you think of a power wheelchair – it's your standard chair, with comfortable seating and a weight limit of up to 300 lbs. Depending on how easy the chair is to take apart and how heavy each piece is, it could be easy to transport.
Heavy-Duty Power Wheelchairs: up to 300 lbs.
A higher weight limit (up to 600 lbs.) means a heavier wheelchair. Bariatric electric wheelchairs require some type of ramp or vehicle lift, as they're too heavy for someone to transport on their own.
The Weight of a Manual vs. Electric Wheelchair
Manual wheelchairs are much lighter than power wheelchairs. A typical manual wheelchair can weigh anywhere from around 15 lbs. on the lightweight side to closer to 50 lbs. on the heavier side. On the other hand, power wheelchairs can weigh 33 lbs. to almost 300 lbs.
While manual wheelchairs are much lighter, there are different types of manual wheelchairs that can weigh more than others. They're designed for more temporary use than a power wheelchair. Manual wheelchairs are great for transportation to and from a car, getting around while you're outside of your home, or traveling through an airport.
Why Are Power Wheelchairs So Heavy?
Power wheelchairs are a lot heavier than their manual wheelchair counterparts mainly because of their batteries. That said, all of the bells and whistles you can add are also contributing factors to how much a power wheelchair is going to weigh.
Batteries
The majority of a power wheelchair's additional weight comes from the batteries. Sometimes, one battery can weigh as much as 50 lbs. and certain power wheelchairs have two batteries on them!
Batteries are necessary for power wheelchairs as they propel the chair forward without the user having to manually move the wheels or have someone push them. So, while they will be much heavier and can easily require a ramp to get into a vehicle, the convenience of a self-propelling wheelchair is very much worth it.
Add-Ons
When it comes to creating your ideal power wheelchair, there are a lot of add-ons and accessories you can choose from. Whether you want bigger, all-terrain tires or an oxygen tank holder, these will all add weight to your power wheelchair.
A few of the most common add-ons that increase the weight of a power wheelchair include:
Swing-away footrest

Elevating leg rests

Oxygen tank holder

Front storage basket

Saddlebag

Upgraded tires
Seating
Advanced seating and positioning systems also add weight to power wheelchairs.
There are a lot of different seating options when it comes to power wheelchairs. For example, you could add on an elevating seat, a reclining seat, or an advanced positioning system to help you stay comfortable.
What is the Lightest Power Wheelchair?
The lightest power wheelchair is only 33 lbs. — it's the Feather Power Chair from Feather Mobility. It's lightweight, foldable, and has an 11-mile range!
While lightweight, portable power wheelchairs feature amazing, life-changing technology, we want to let you know that most lightweight power wheelchairs aren't covered by insurance.
This is because, for insurance to cover a wheelchair, it needs to be seen as reasonable and medically necessary. However, a lightweight portable wheelchair isn't designed for daily, long-term use. Their main purpose is to be used outside of your home, which doesn't constitute necessary use, only occasional use.
Common Wheelchair Weights
Here's a breakdown of the weights of some of our most popular power wheelchairs.
Need Help Getting a Power Wheelchair in California?
If you're a California resident, we can help you get into a power wheelchair so you can regain independence and confidence!
We work closely with your doctor and insurance to obtain authorization, complete the required documentation, and build the perfect power chair for your needs.
See if you qualify for a power wheelchair today or contact us to set up a FREE consultation!
Electric Wheelchairs
November 17, 2022 by Freedom Mobility
The weight of an electric wheelchair is one of the most important criteria to consider, but it's often overlooked. Think about how you plan on using your electric wheelchair: How often will you be using it outside of your home? Are you going to be traveling...