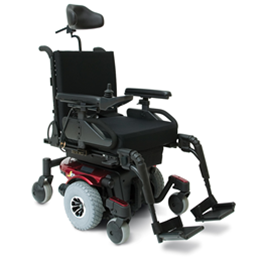 The J6 power wheelchair is highly-customizable, comfortable, and stable. If you're looking for maximum stability and freedom, this could be the perfect chair for you. View more
Why We Love the J6 Power Wheelchair
With tight maneuverability and incredible stability, the J6 Power Chair from Pride Mobility is a great choice for an everyday power wheelchair. The J6 Quantum power base is compatible with many different seating and electronics options, too. This makes it easy to customize if you need advanced functionalities or wider seating.
FDA Class II Medical Device
J6 Features & Benefits
Mid-Wheel 6® allows six wheels on the ground for maximum stability

Compatible with TRU-Balance® Power Positioning Systems, including the Tru Balance 3 Power Positioning System, Synergy Seating, and Contoured Seating

OMNI-Casters (nylon, spherical-shaped casters) on front and rear prevent wheel hang-ups

Side-mounted, easily accessible freewheel levers

ATX Suspension (Active-Trac® with extra stability) incorporates front OMNI-Casters for enhanced performance over more varied terrain

Easy front access to batteries

Max speed up to 4 MPH
J6 Power Wheelchair Options
One of the best parts of the J6 wheelchair base is how customizable it is. Whether you're looking for additional comfort, more room to get in and out of the power chair, or advanced adjustability, we can help make sure the J6 fits your exact needs.
Here are some options you can add to your J6:
Swing-away joystick mount

Multi-axis joystick mount

Elevating leg rests

Oxygen tank holder

Neoprene leg rest sleeves

Gel adductor buttons

Power elevating seat

Angle-adjustable footplates

70" swing-away leg rests

Q-Logic 2 EX Drive Control System
J6 Available Colors
Red Corvette

Electric Blue

Back in Black

Evolution Orange

Pretty in Pink
| | |
| --- | --- |
| Drive Configuration | Mid-wheel drive |
| Drive Wheels | 10" Solid. Optional: 10 |
| Drive Configuration | Mid-wheel drive |
| Drive Wheels | 10" Solid. Optional: 10" Pneumatic |
| Caster Wheels | Front: 5" Solid, Rear: 6" Solid |
| Maximum Speed | Up to 4 MPH |
| Ground Clearance | 2.5" (frame) |
| Turning Radius | 22" |
| Overall Length | 34.74 |
| Drive Configuration | Mid-wheel drive |
| Drive Wheels | 10" Solid. Optional: 10" Pneumatic |
| Caster Wheels | Front: 5" Solid, Rear: 6" Solid |
| Maximum Speed | Up to 4 MPH |
| Ground Clearance | 2.5" (frame) |
| Turning Radius | 22" |
| Overall Length | 34.74" without foot riggings |
| Base Width | 23.19" |
| Synergy Seating Size | W: 10-20" D: 10-20" |
| Static Seating Size | W: 10-20" D: 10-20" |
| Power Tilt Seating Size | W: 14-20 D: 14-20" |
| Synergy Seat-to-Floor Height | 15.75-17.5" |
| Static Seat-to-Floor Height | 16.75" |
| Power Tilt Seat-to-Floor Height | 16.75" |
| Battery Size | U-1 |
| Battery Weight | 23.4 lbs. |
| Battery Charger | 5A Off-board |
| Motor Packages | 2-Pole 4 mph |
| Weight capacity | 300 lbs. |
| Base Weight | 100.2 lbs. |
| Medicare Code Coverage | Group 2: Standard (K0822/K0823) |
J6 Power Chair Warranty Information
| | |
| --- | --- |
| Structural frame components | Limited lifetime warranty |
| Battery | 13-month warranty from battery manufacturer |
| Motor/gearbox & power seat actuator | 18-month limited warranty |
| Defective material and/or workmanship | One-year limited warranty |