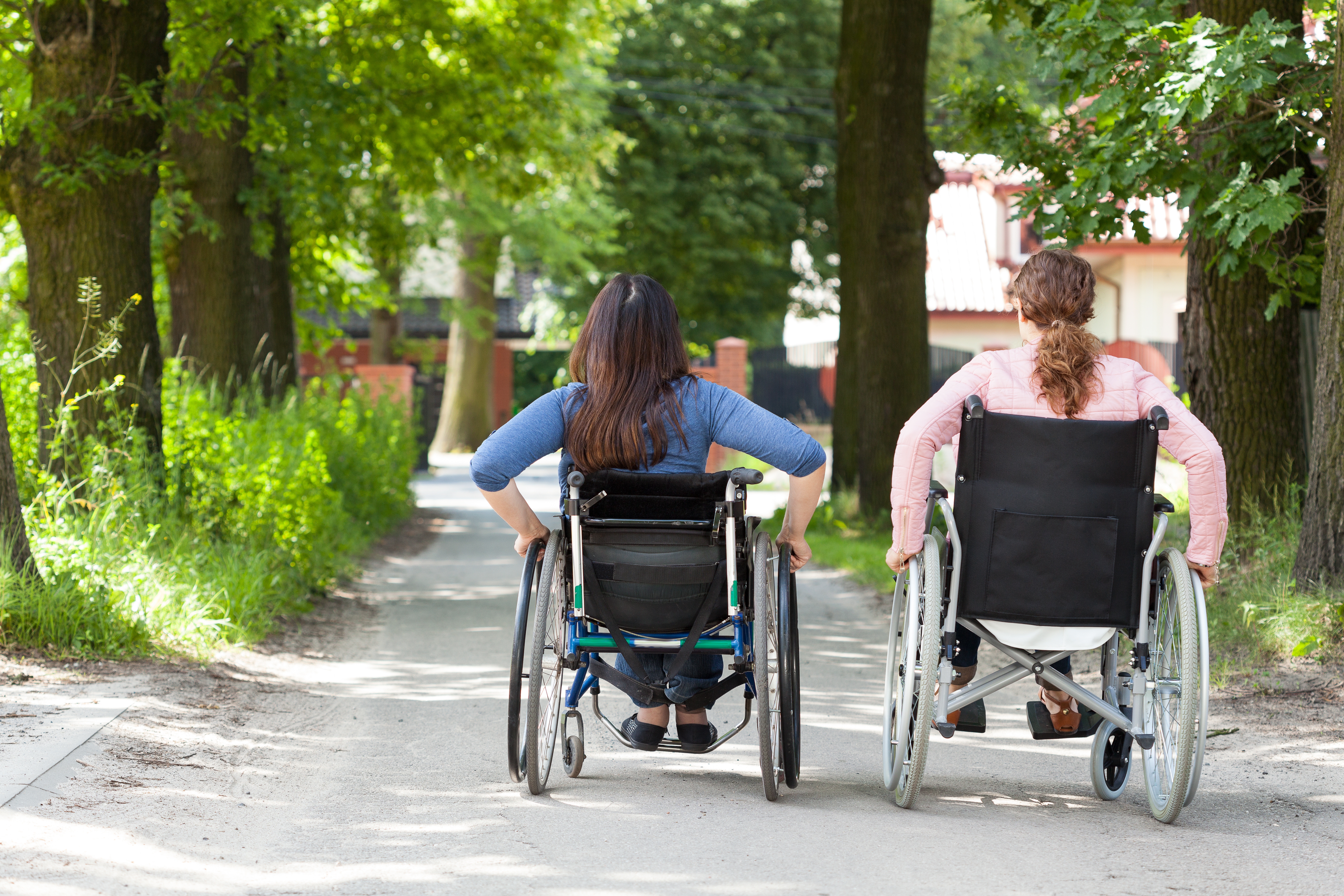 There's a lot that goes into picking the right wheelchair. Whether you're shopping for a manual wheelchair for yourself or you're a caregiver helping your patient search, it can feel overwhelming at times.
Luckily, we're here to help! Our team of rehab solution experts is here to explain all of the different types of manual wheelchairs and offer a few tips on how to choose the right one for your needs.
Manual Wheelchair vs Power Wheelchair
The main two types of wheelchairs are power and manual. As you probably already know, a manual wheelchair means either the user or the caregiver is responsible for moving the wheels or pushing the wheelchair.
Power wheelchairs can provide a lot more independence, especially with advanced options that allow users to sit at eye level with other people, travel at quick speeds, and even last up to 15 miles.
That said, power wheelchairs can be cumbersome and expensive to repair. Manual wheelchairs are a great choice because they're easier to transport, they usually fold up to fit in a car, and they won't have as many parts to repair or replace as a power wheelchair.
Different Types of Manual Wheelchairs
There are many different types of manual wheelchairs. The one that's best for you depends on your physical abilities, needs, and desired comfort levels.
There are two main types of manual wheelchairs:
Self-propelled manual wheelchairs - These are the common manual wheelchairs you see with large rear wheels. This type of wheelchair is meant for the user to push the wheels, propelling themselves forward. Most manual wheelchairs are self-propelled.

Assisted manual wheelchairs - This type of wheelchair is designed for a caregiver to push. Assisted wheelchairs are usually only used for transportation purposes, and are not for permanent use.
Standard Manual Wheelchair
A standard wheelchair is your basic manual wheelchair. They're self-propelled, meaning the user is responsible for moving the wheels or having something push the wheelchair.
Common features of standard wheelchairs include:
Large back wheels, making it easy for the user to propel the chair

Handles that someone else can use to push the wheelchair

Swing-away footrests

Multiple seat sizes
One of the best standard wheelchairs we've come across is the Medline K4 basic wheelchair. It has everything you need in a manual wheelchair, including multiple options for seat size, leg rests, and footrests.
Insurance Coverage Classifications:
When it comes to classifications for insurance coverage, there are two types of standard manual wheelchairs:
Standard Wheelchair: K0001 - This is your regular manual wheelchair.

Standard Hemi (Low Seat) Wheelchair: K0002 - This manual wheelchair has a lower seat and is best for users who are 5'2" and under.
Lightweight Manual Wheelchair
A lightweight wheelchair is just a lighter version of a standard manual wheelchair — they only weigh about 30-50 lbs.
It's easier to push and lift in and out of a car, and they fold up to be a lot smaller than other types of wheelchairs.
Lightweight manual wheelchairs are:
Made with light materials, such as aluminum

Easy to fold so they can fit into smaller cars

Great for travel, as most are airline-approved
A great lightweight wheelchair example is the Medline K4 Lightweight. Weighing just 31.5 lbs., it has a 300 lb weight capacity and a durable, folding frame.
Insurance Coverage Classifications:
Lightweight Wheelchair: K0003 - Lightweight wheelchairs typically weigh 30-50 lbs.

High Strength, Lightweight Wheelchair: K0004 - These typically include more functionality than the lightweight wheelchairs.
Ultra-Lightweight Manual Wheelchair
Ultra-lightweight manual wheelchairs are the lightest type of manual wheelchair, typically weighing less than 20 lbs!
For example, the TiLite Aero Z Ultra Lightweight wheelchair weighs just 12.4 lbs. This is revolutionary for the world of rehab technology, as it's light enough for just about anyone to lift it in and out of a car.
Plus, ultra-lightweight manual wheelchairs are the most portable manual wheelchairs — they fold up and can fit in any car.
When it comes to insurance coverage classifications, there is only one type for this category: the ultra lightweight wheelchair (K0005).
Heavy Duty Manual Wheelchair
Bariatric manual wheelchairs support higher weight capacities, with some able to carry up to 700 lbs.
They provide safe, reliable transport for patients of all sizes. Due to their heavyweight capacity, bariatric wheelchairs are made out of the strongest, most durable materials. This makes them heavier and more difficult to transport than regular wheelchairs.
Insurance Coverage Classifications:
Heavy Duty Wheelchair: K0006 - This bariatric wheelchair can usually support up to around 300 lbs.

Extra Heavy Duty Wheelchair: K0007 - Capable of supporting up to 1000 lbs., this is the most heavy duty manual wheelchair available.
Manual Transport Wheelchair
Manual transport wheelchairs are used to transport the wheelchair user. It's easy to identify a transport wheelchair because it doesn't have large rear wheels.
They're one of the few types of manual wheelchairs that aren't self-propelled. Instead, they're designed for someone else to push the wheelchair. If you're looking into this type of manual wheelchair for yourself, make sure you'll have a caregiver able to push the wheelchair whenever you might need it.
Transport wheelchairs aren't meant for permanent use. Their sole purpose is to transport the user from one place to another. It's helpful to bring along if someone isn't able to walk long distances, isn't strong enough to propel themselves, or gets tired easily.
Insurance Coverage Classifications:
Transport Chair, Pediatric Size: E1037 - Designed for children or smaller adults.

Transport Chair, Adult Size: E1038 - This transport chair is classified to carry up to 300 lbs.

Transport Chair, Adult Size, Heavy Duty: E1039 - This class doesn't specify a total weight limit, but supports adults who weigh over 300 lbs.
Complex Manual Wheelchair
A complex manual wheelchair is customizable to the user's medical needs. These are commonly used for people with disabilities and come with a wide range of options.
Characteristics of complex manual wheelchairs include:
Highly customizable for the users

Easily adjustable

Customized positioning options

Pressure management

Designed for daily use

Some offer tilt-in-space capabilities
One of the best complex manual wheelchairs on the market is the Quickie IRIS. It's a lightweight, manual tilt-in-space wheelchair. Weighing just 39 lbs, it has an advanced rotational system, built-in adjustability, and multiple tilt ranges to provide ultimate comfort for the wheelchair user.
Complex rehab equipment is most effective when you work with a team of rehab experts who can explain the best wheelchair options for your needs.
Insurance Coverage Classifications:
Complex wheelchairs have the most insurance classifications out of any other type of manual wheelchair. A few of the most common include:
Manual Adult Size Wheelchair, Tilt in Space: E1161 - This includes any manual wheelchair with the tilt-in-space functionality (like the Quickie IRIS).

Custom Manual Wheelchair: K0008 - Includes any manual wheelchair with highly customized features.
Manual Sports Wheelchair
Sports wheelchairs allow wheelchair users to stay active and participate in the sports they know and love! Depending on the sport or activity, the wheelchairs could look vastly different. Common features include large, wide stance wheels, lightweight, advanced anti-tip features, and additional safety belts.
Manual sports wheelchair options include:
Tennis wheelchairs

Basketball wheelchairs

Cycling wheelchairs

All-terrain wheelchairs (which are great for fishing!)
How Do I Choose a Wheelchair?
This is where the difficult part comes in. We can't recommend the best wheelchair for you without knowing your specific needs and physical abilities.
However, when you're evaluating a wheelchair, you'll want to look at:
Wheelchair weight - Consider whether you'd like an ultra-lightweight wheelchair that's portable and easy to fold up, or if you prefer the support of a standard manual wheelchair. This really comes down to where you plan to go, your (or your caregiver's) physical abilities, and comfort and function.

Weight capacity - If you weigh under 240 lbs, you won't have to worry about weight capacity with most wheelchairs. However, if you're looking for a wheelchair that supports more weight, a bariatric manual wheelchair is your best option.

Comfort and extra options - If you plan to use your wheelchair for long periods of time, you'll need to make sure it's comfortable enough to do so. Look into manual wheelchairs with extra cushioning, seating positioning options, as well as soft arm and leg rests.

Durability - Long-term wheelchair use requires stronger durability than a wheelchair you might only be in for an hour or two per day. Make sure you're choosing a wheelchair durable enough to withstand your needs. For example, lightweight wheelchairs use less durable materials for the sake of saving extra weight.
We Can Help You Find the Perfect Manual Wheelchair in California
Are you a resident of California? We help people throughout the entire state find the best wheelchair for their needs. Whether you're looking for the lightest wheelchair or need a complex rehab solution, our team of experts is ready to help.
Contact us today to set up a free consultation!
Manual Wheelchairs
November 21, 2022 by Freedom Mobility
There's a lot that goes into picking the right wheelchair. Whether you're shopping for a manual wheelchair for yourself or you're a caregiver helping your patient search, it can feel overwhelming at times. Luckily, we're here to help! Our...