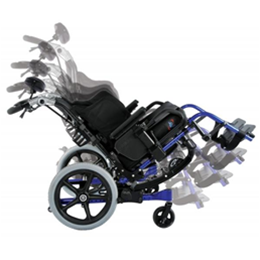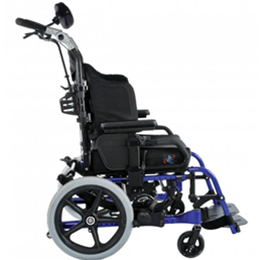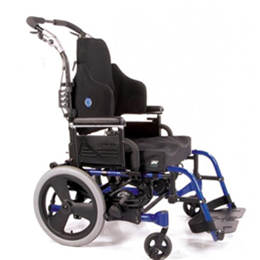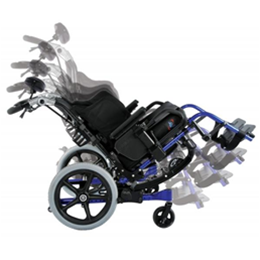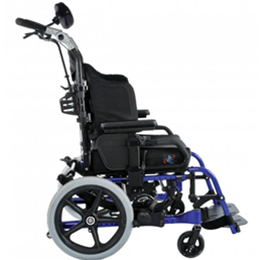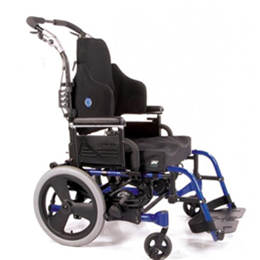 The Quickie IRIS® is one of the lightest tilt-in-space wheelchairs on the market. It also features the widest range of positioning and caregiver options. View more
Why We Love the Quickie IRIS Manual Wheelchair
If you're looking for a manual, tilt-in-space wheelchair, the Quickie IRIS might be exactly what you need. There are many ways to customize it so it fits your exact specifications for caregiver options, positioning range, and other adjustments.
The Quickie IRIS features up to 55° of Intelligent Rotation in Space Technology for the most comfortable ride possible.
Quickie IRIS: Features & Benefits
The Quickie IRIS is far from your typical manual wheelchair. While we've already established this is the lightest tilt-in-space wheelchair available, there are a few other standout features.
Rotational Tilt System
The Quickie IRIS utilizes a rotational tilt system. Instead of tilting the seat frame from an outside pivot point, the Quickie IRIS actually rotates the seat frame around the user's center of gravity.
This rotational system provides the shortest possible wheelbase without compromising stability. It also ensures a smooth and controlled rotation. This tilt system allows the user to have more control over their body, giving them independence and confidence to go about their daily activities.
The rotational system also includes:
Attendant control - the caregiver can give the user full control of the tilt function. The attendant control can hang anywhere on the chair, and a battery gauge is clearly displayed right on the top so you'll always know when it needs to charge.

Toggle switch - the toggle switch can be mounted horizontally or vertically, depending on what the user needs.
Multiple Tilt Ranges
The Quickie IRIS features three tilt ranges:
-5° to 50°

0° to 55°

5° to 60°
As the seat frame rotates past 45°, a significant amount of pressure transfers from the seat to the back. By providing up to 60° of tilt, the Quickie IRIS ensures the majority of pressure is removed from the ischial tuberosities.
Built-In Adjustability
The Quickie IRIS has extensive built-in adjustability. The chair frame can expand from 14"- 22" in width and 15"- 22" in depth by changing only four small parts.
This vast range of built-in adjustability provides a precise center-of-gravity adjustment without the need to replace large frame assemblies.
Quickie IRIS Colors:
The Quickie IRIS has many different color options! The following colors are for the frame of the wheelchair. However, you can also customize the colors of the shroud and wheel inlays.
High Gloss Colors:
Aztec Gold

Candy Red

Rootbeer

Black

Electric Blue

Sparkle Silver

Black Cherry

Evergreen

Sunrise Orange

Black Opal

Glow (glows in the dark!)

Yellow

Blue Opal

Green Apple

Candy Blue

Candy Purple

Hot Sparkle Pink

Mauve Pink

Gloss White

Bead Blast
Matte Finish Colors:
Titanium color paint

Matte Black

Matte Black Cherry

Matte Purple

Matte Electric Blue

Matte Evergreen
Quickie Iris Tilt In Space Specifications
| | |
| --- | --- |
| Seat Width | 14 - 22" |
| Seat Depth | 14 to 22" |
| Seat-to-Floor height | 12.5 - 19" |
| Tilt range | 40° and 50° |
| Back Height (40° Tilt) | 15 - 21" |
| Back Height (50° Tilt) | 18 - 24" |
| Back Angle Adjustment | -30° to 5° |
| Camber | 0° |
| Weight capacity | Standard: 300 lbs, Heavy Duty: 400 lbs. |
| Weight | 39 lbs. |
Quickie Iris Tilt In Space Warranty
| | |
| --- | --- |
| Power unit, charger, & components | One year |