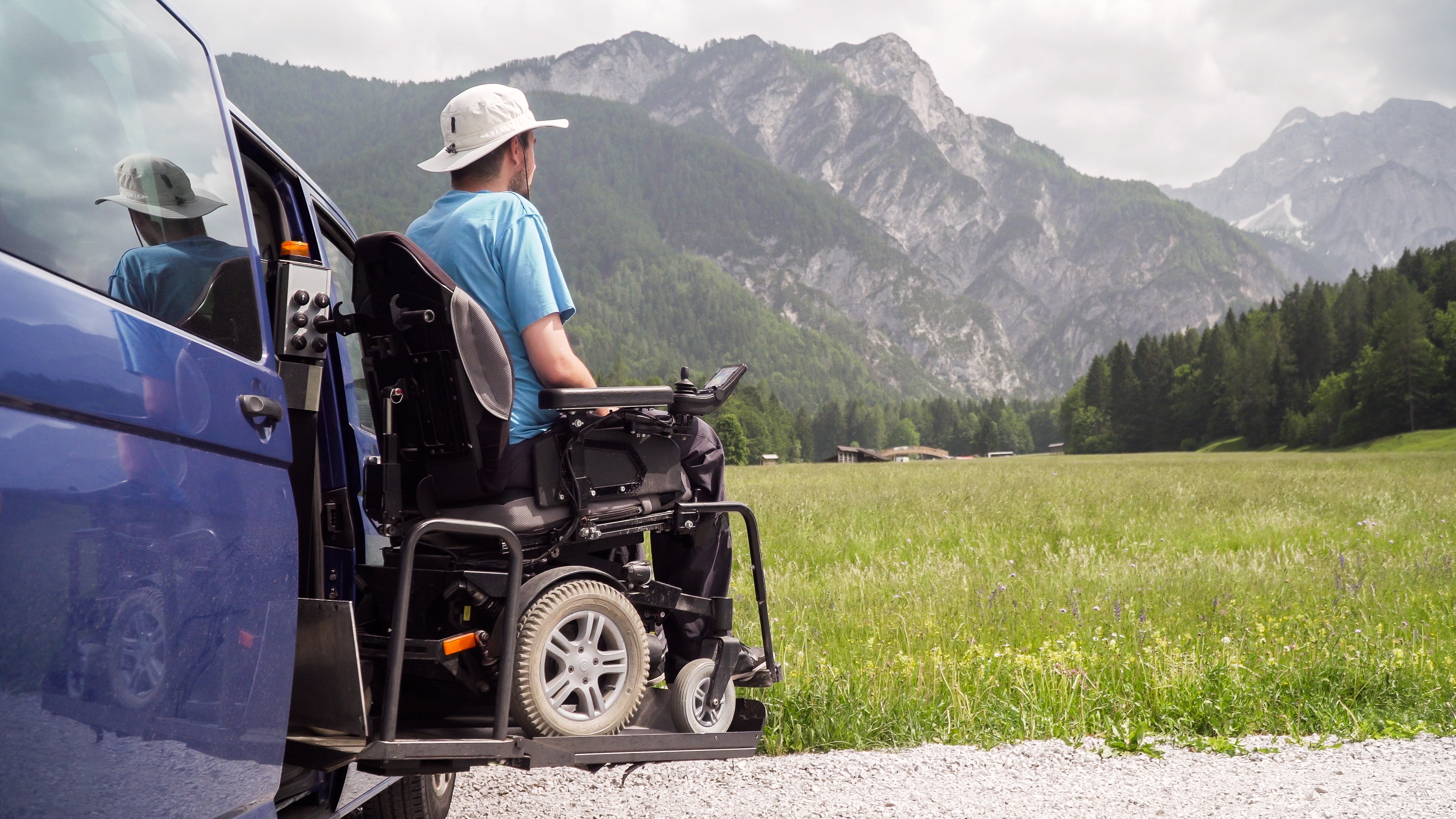 How to Transport an Electric Wheelchair
Figuring out how to transport an electric wheelchair is essential to regaining mobility and independence.
The weight and size of the wheelchair will determine the best method of transportation. If the wheelchair is too big to fit inside your vehicle, you'll need an exterior mount or lift. However, you'll also need to ensure the option you choose has a high enough weight capacity for the power wheelchair.
There are multiple ways you can transport an electric wheelchair:
Bumper-mounted wheelchair rack

Pull-behind trailer

Vehicle lift

Wheelchair-accessible van
Our team of rehab experts breaks down the best options here.
Please note that the average costs and weight capacities for each wheelchair transportation option are a general range based on multiple options. Actual prices and weight capacities vary.
How Do You Transport an Electric Wheelchair?
Electric wheelchairs are usually transported using a vehicle lift, ramp, or bumper-mounted rack. The best method of transportation depends on the size and weight of the electric wheelchair. If it's too heavy for someone to lift on their own, you'll need the help of a ramp or a lift.
Unless it's a lightweight power wheelchair, it's probably too heavy for one person to lift — the weight of an electric wheelchair can be as high as 300 lbs!
Some electric wheelchairs can be taken apart and transported inside a vehicle. However, not every electric wheelchair disassembles for easy transport. In those cases, you'll have to transport the chair the way it is.
Ways to transport an electric wheelchair include:
Bumper-mounted rack

Pull-behind trailer

Wheelchair ramp

Wheelchair-accessible van

Vehicle lift

Public transportation

Wheelchair-accessible vehicles with rideshare apps
Take Measurements
The first thing you should do is take measurements of the electric wheelchair and the vehicle you're thinking of transporting the chair in. You'll likely need an SUV, minivan, truck, or transport van.
Once you know the size of the power wheelchair, you'll determine if you need an internal or external transportation method.
Transporting a Power Wheelchair That Doesn't Fit Inside a Car
External transportation options work well if the wheelchair is too big to fit inside your car — it mounts to the bumper or roof of a vehicle. Since we're talking about heavy power wheelchairs, you probably won't be able to lift one above your head to attach it to the roof of a car. Your best option here is an external bumper-mounted rack or lift.
Bumper-Mounted Wheelchair Rack or Basket
A bumper-mounted wheelchair rack is probably the best option for transporting an electric wheelchair if it doesn't fit inside your vehicle. This rack (or basket) attaches to the bumper of a car, and the wheelchair is secured using hooks or tie-down straps.
While some bumper-mounted wheelchair racks require the wheelchair to be lifted onto it, others come with a fold-down ramp or even an electric lift.
Average cost: $150-$700
Weight capacity: around 400-500 lbs.
Pull-Behind Trailer
As a last-case scenario, when a power wheelchair won't fit in your vehicle, you can transport it using a pull-behind trailer. Just make sure you have a way to secure the wheelchair inside the trailer.
This isn't the best option for regular wheelchair transport, as you might not always want to tow a trailer behind your car. However, it is a good option if you only need to transport a wheelchair for a short time.
Average cost: Varies
Weight capacity: Varies
Transporting a Power Wheelchair That Fits Inside of a Car
Wheelchair Ramp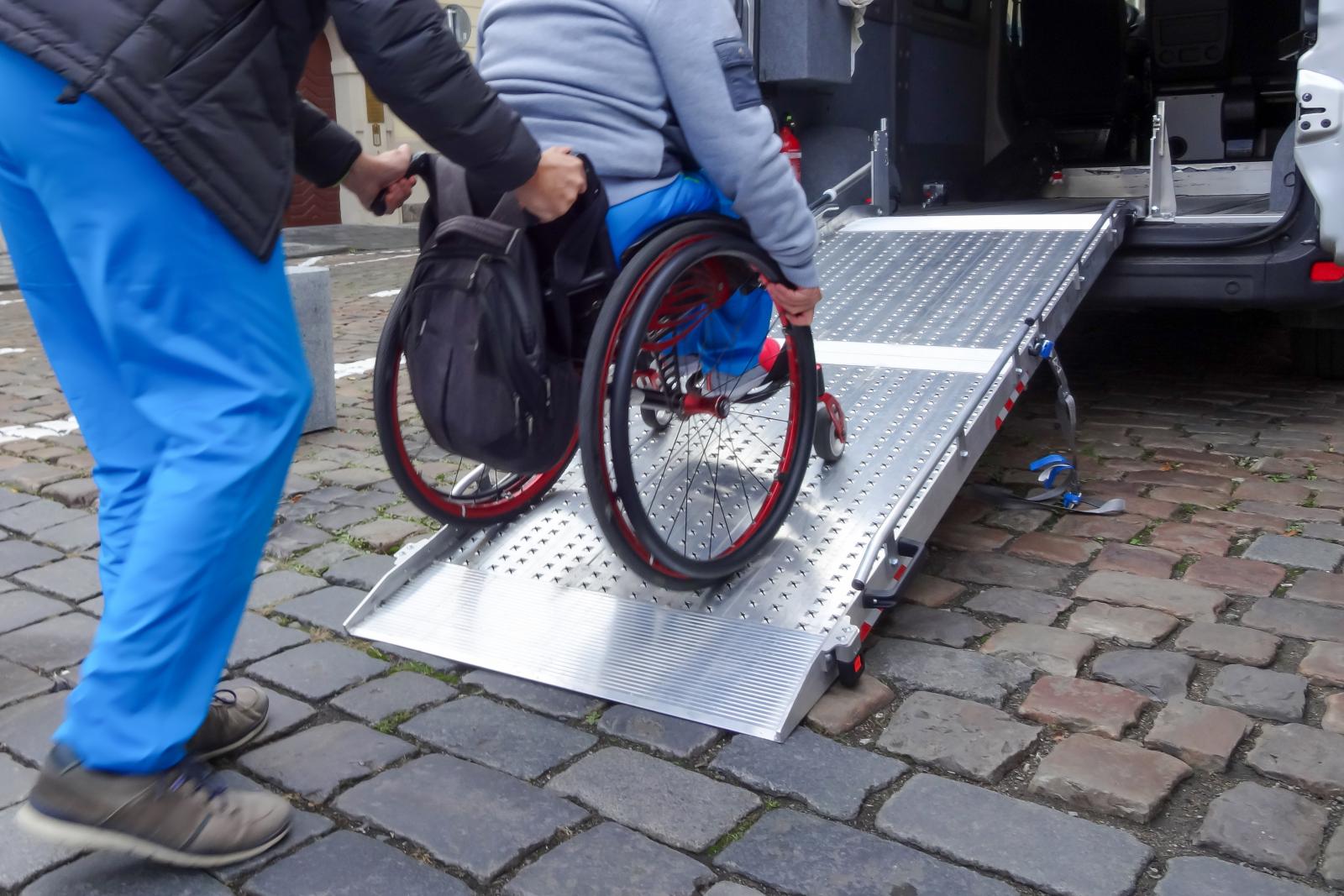 Wheelchair ramps are the more simple (and affordable) option for transporting an electric wheelchair. You still need to measure the vehicle's interior to make sure the wheelchair will fit inside.
There are two types of wheelchair ramps:
Manual wheelchair ramp - Manual wheelchair ramps need to be folded, unfolded, and manually placed down to reach the vehicle. Some manual ramps have a spring-loaded mechanism that makes them easier to use.

Electric wheelchair ramp - Some electric wheelchair ramps can be custom-fitted to your vehicle. For example, a van can be customized to contain a ramp that folds out of the back or side door automatically. Electric ramps are more expensive than manual ones, with some costing a few thousand dollars.
Average cost: $200-$1,000+
Weight capacity: 500-1,000 lbs.
Wheelchair-Accessible Van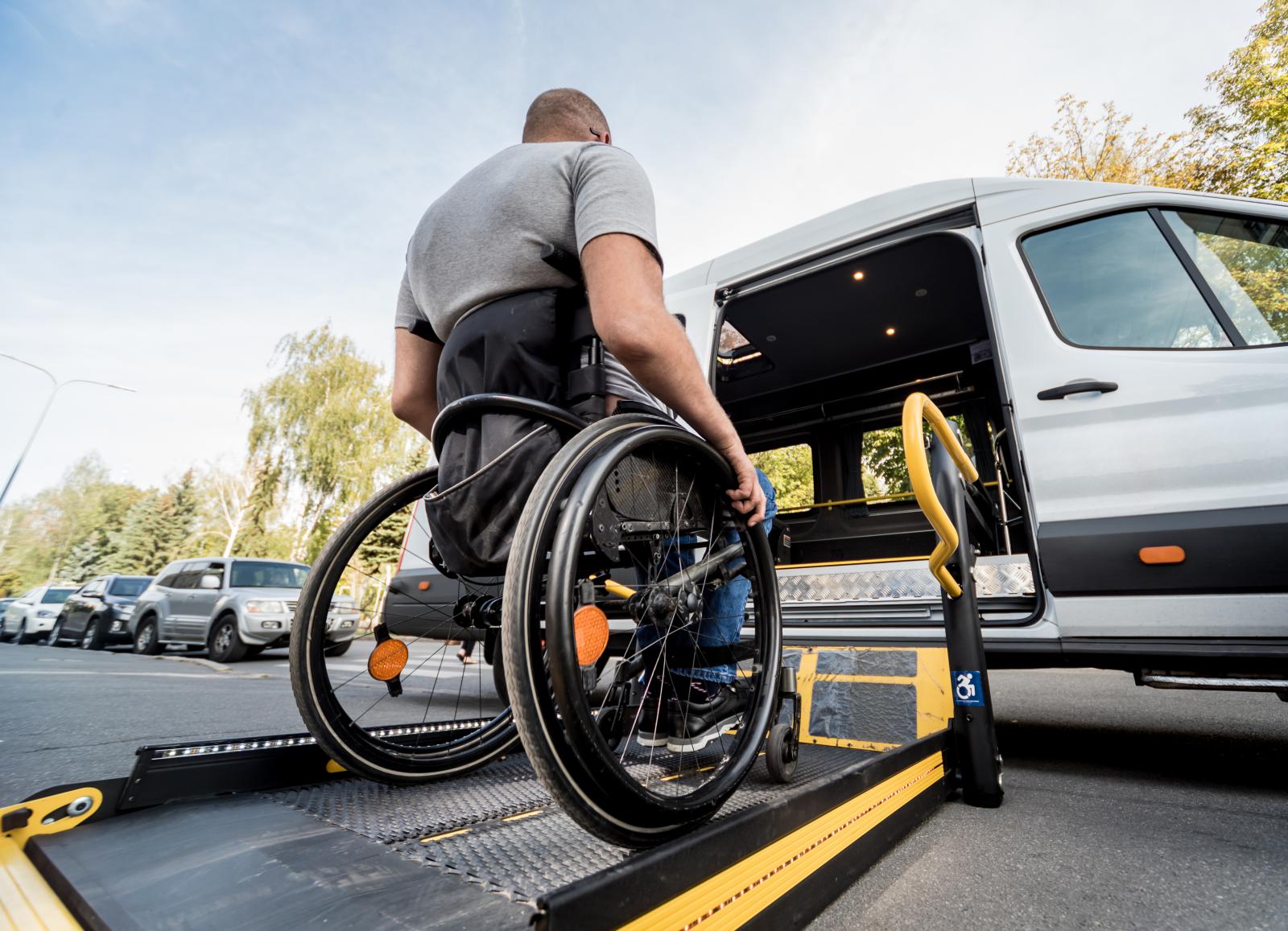 If you're looking for a more permanent solution, purchasing a modified wheelchair-accessible van or modifying your own is a great option.
Typically, a wheelchair-accessible van has an electric wheelchair ramp or lift built into it. This ramp will roll out when the door opens, allowing the wheelchair user to drive the chair into the vehicle. Then, it folds back up and you're ready to go!
Vehicle Lift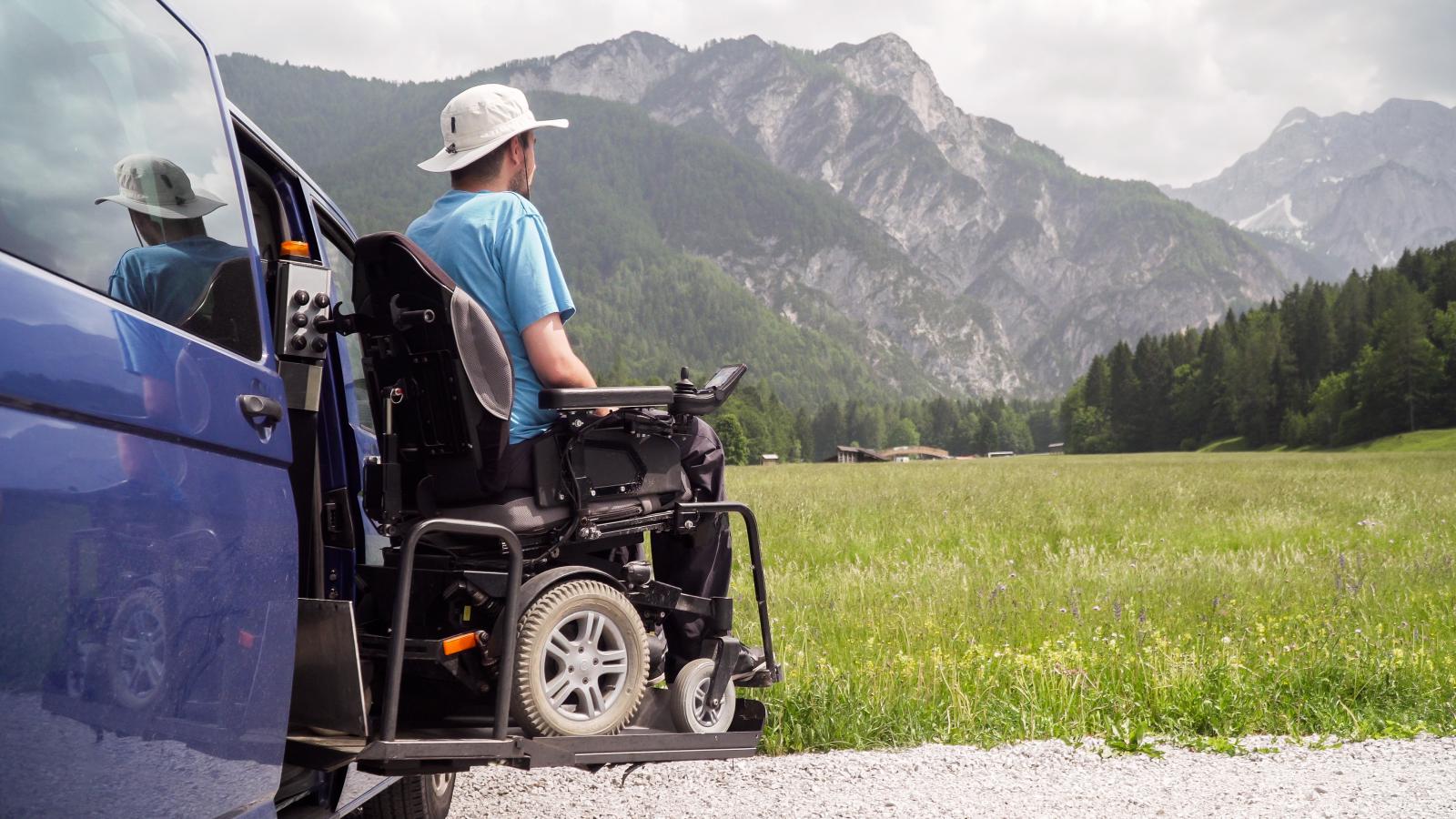 A vehicle lift is one of the most popular options for transporting a power wheelchair. You drive the wheelchair onto the lift and let the lift raise the wheelchair up.
When purchasing a vehicle lift, you'll need to make sure it can handle the weight of the power chair and is compatible with your vehicle. Many electric vehicle lifts fit inside of SUVs, so you don't always need a large transport van!
There are two types of vehicle lifts:
Exterior lifts - Exterior lifts are the electric version of a bumper-mounted wheelchair basket. The lift is mounted to the bumper of a vehicle and lifts the electric wheelchair, so you don't have to do any heavy lifting.

Interior lifts - Interior lifts are used to lift a power wheelchair off the ground and into the vehicle. These lifts will go up and then in — it's as easy as pushing a button!
Average cost: $2,000 - $6,000+
Weight capacity: 350 - 450 lbs.
What if the Electric Wheelchair is Too Heavy to Lift?
Some people prefer to lift the electric wheelchair into their vehicle or onto a ramp. However, some of these chairs aren't possible for someone to lift — they can weigh over 250 lbs!
If the weight of the electric wheelchair is too heavy to lift, the best transportation options are:
A wheelchair ramp

An electric vehicle lift
Transporting a Power Wheelchair on Public Transportation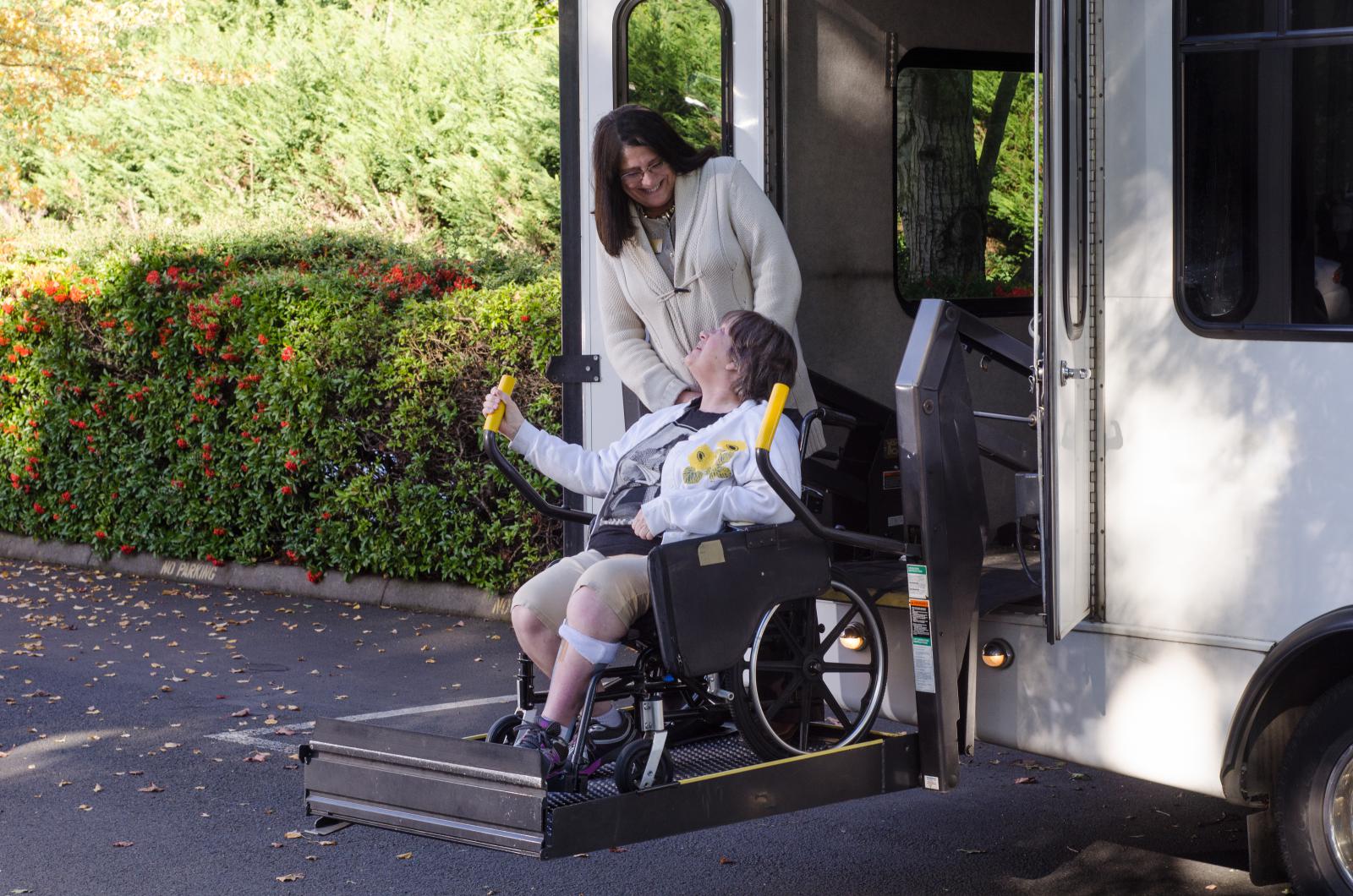 The U.S. Department of Transportation has to comply with the Americans with Disabilities Act (ADA). The ADA states that public transportation vehicles must have the proper equipment for a passenger who uses a wheelchair or mobility device to board the vehicle and reach a secure location.
This includes, but is not limited to, lifts, ramps, and straps to secure wheelchairs on board. The lifts and ramps must have a minimum design load of 600 lbs and accommodate a wheelchair that's 30 inches x 48 inches.
Wheelchair-Accessible Rideshare Options
Sometimes public transportation isn't the quickest or most convenient option. Luckily, most rideshare apps have wheelchair-accessible (WAV) options:
Lyft - Turn on "wheelchair access" in your Lyft app settings. When you request a ride, you'll see a new type called 'access'. However, WAV rides are only available in select cities — you can check Lyft's website for details.

Uber - Uber offers a WAV option. Once you confirm your pickup and destination addresses, scroll down to select "WAV". Each driver operating an Uber WAV vehicle has completed a third-party certification course, so they know how to help you enter and exit their vehicles.
Do You Have Questions About Rehab Equipment?
We have a team of RESNA-certified experts trained to help patients find the best complex rehab equipment for their needs. Our service area spans the entire state of California, and we can assist with everything from wheelchair repairs to choosing the best technology for you.
Contact us today for a FREE consultation!