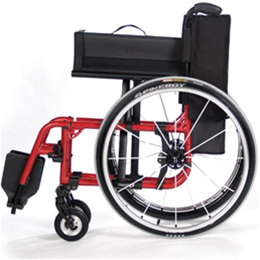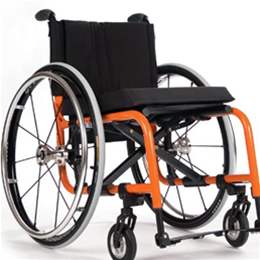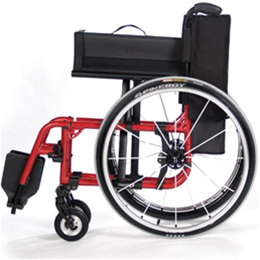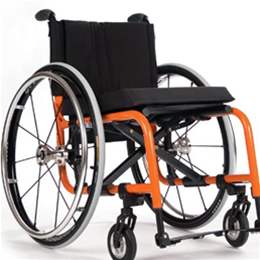 The TiLite Aero X is a modern, lightweight, foldable wheelchair with nearly endless customization options. The versatility of the Aero X makes it one of our favorite manual wheelchairs. View more
Why We Love the TiLite Aero X
The TiLite Aero X is a sleek, modern wheelchair with a lot of possibilities. This manual wheelchair truly excels in both performance and price.
This is a lightweight, yet durable, wheelchair. The one-piece side frames increase durability and allow for nearly infinite configurations. Plus, it folds up side-to-side, which is a MUST for a folding wheelchair.
TiLite Aero X Features & Benefits
Standard Features
Modern Design - The innovative modular design of the TiLite Aero X allows for many different customizations. Possibilities include aftermarket seating systems, swing-away front ends, and adjustable chair width/depth.
Full Adjustability - The Tru-Fit system allows users to fine-tune the fit of their wheelchairs because there isn't a set number of holes.
Cost-Effective Box Frame - The box frame design is strong, efficient, and cost-effective.
Folding Frame - The Aero X has an easy-to-use foldable frame. It folds up side-to-side, which maximizes ease of transportation.
Curved Axle Plate - TiLite's patented curved axle plate provides the greatest range in center of gravity adjustment and rear seat height adjustment.
Optional Features
Titanium frame upgrade - This upgrade makes the Aero X even lighter, stronger, and allows for less vibration.
Performance 5-Spoke Soft Roll Wheel - These weigh only 1.6 ounces.
TiLite Aero X Colors
High Gloss Paint
High Gloss Black
TiLite Red
Neon Pink
Metallic Paint
Ocean Blue Metallic
Tangerine Metallic
Acid Green Metallic
Matte Paint
Pearlescent Paint
Midnight Blue Pearl
White Pearl
Candy Paint
Ruby Red
Azure Blue
Electric Plum
Matte Textured Paint
Hyper Blue
Flame Orange
OD Green
Natural Titanium (Titanium chairs only)
TiLite Aero X Wheelchair Specifications
| | |
| --- | --- |
| Minimum Seat Width | 12" |
| Minimum Seat Depth | 12" |
| Maximum Seat Width | 22" |
| Maximum Seat Depth | 20" |
| Custom Configuration | Yes |
| Camber | 0°, 2°, 4°, or 6° |
| Adjustability | Full Adjust |
| Frame Style | Folding |
| Frame Material | Aluminum with titanium upgrade available |
| Footrest Widths | Standard Taper |
| Center of Gravity Adjustment | 6" |
| Transit Options | Transit Tie-Down, Transport Bracket |
| Weight capacity | 265 lbs. |
| Growable | Optional |
| Front Framed Angle Fixed Front | 70°, 80°, or 85° |
| Front Frame Angle Swing Away | 70°, 80°, 85°, or 90° |
| Seat Back Type | Folding Seat Back |
| Movement style | Full assistance, Both legs mostly, Hemi |
TiLite Aero X Warranty Information
| | |
| --- | --- |
| Frame | Lifetime limited |
| Components | One-year limited |