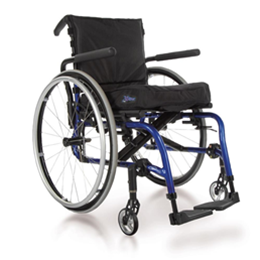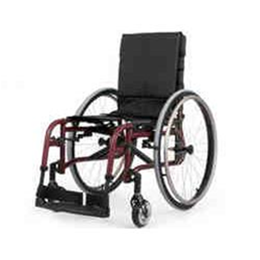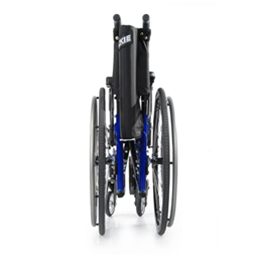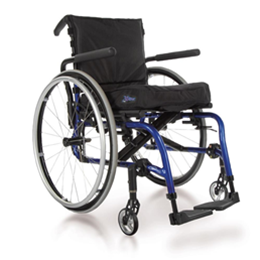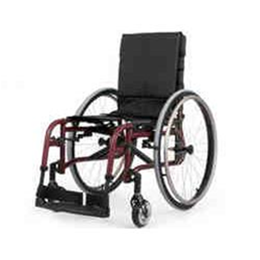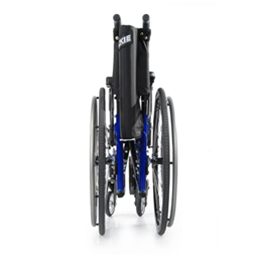 The Quickie® 2 Ultra Lightweight manual wheelchair has more features and options than any other folding ultralight chair on the market! Learn more about it here. View more
Why We Love the Quickie® 2 Ultra Lightweight
The Quickie® 2 Ultra Lightweight has more options and features than any other folding ultralight chair on the market! This chair was built to be an extension of you. It can be fully customized to your needs.
This manual wheelchair uses 7000 Series Aerospace Aluminum, resulting in a stronger frame with a weight capacity of 300 lbs while staying lightweight. You get to choose from over 1,000 configurations of components — most of which don't come at an additional cost!
FDA Class II Medical Device
Quickie® 2 Ultra Lightweight Features & Benefits
Standard Features
Intuitive Hanger Design - The Quickie 2 features swing-in/swing-out designs. This includes a bi-directional release lever and a tapered locking mechanism that prevents loosening over time.
Stronger and Lighter Wheelchair - The new cross brace increased the weight capacity of the Quickie 2 to 300 lbs.
Axle Adjustability - The new axle plate design provides many new options for rear floor to seat height adjustments.
Adjustable sizing - There are nine different seat-depth frames, 11 frame widths, and eight different frame depths.
EXO Upholstery - EXO upholstery helps provide optimal positioning and a sleek, modern design.
Caster Housing - The Quickie 2 caster housings provide enhanced stability with a nimble ride.
Optional Features
Hemi frame
Depth-adjustable back
Angle-adjustable back
Quickie Xtender Power Assist
Multiple wheel and caster combinations
Caster housing adjustments allow for true fork alignment when changing seat angles
Armrest options to customize support, positioning, and transfer needs
Interchangeable foot and hanger options for growth and changing needs
Quickie® 2 Ultra Lightweight Colors
Quickie® 2 Frame Color Options
High Gloss Colors
Aztec Gold
Candy Red
Rootbeer
Black
Electric Blue
Sparkle Silver
Black Cherry
Evergreen
Sunrise Orange
Black Opal
Glow
Yellow
Blue Opal
Green Apple
Candy Blue
Candy Purple
Hot Sparkle Pink
Mauve Pink
Matte Finish Colors
Titanium Color Paint
Matte Black
Matte Black Cherry
Matte Purple
Matte Electric Blue
Matte Evergreen
Quickie® 2 Shroud Color Options
High Gloss Colors
Apple Green
Copper
Silver
Candy Apple Red
High Gloss Black
Yellow
Candy Blue
Midnight Blue
American Flag
Candy Purple
Pearl Pink
Pink camo
Carbon Fiber
Pearl White
Matte Finish Colors
Matte Black
Digital Camo
Woodland Camo
Grunge Skulls
| | |
| --- | --- |
| Seat Width | 12" - 22" |
| Seat Depth | 12" - 20" |
| Weight capacity | 300 lbs. (350 lbs. optional HD Frame) |
| Frame Style | Folding |
| Frame Material | Aluminum |
| Back Height | 9" - 21" |
| Center of Gravity Adjustment | 1" - 3.5" |
| Camber | 0°, 2°, 4° |
| Adjustable Axle Plate | Yes |
| Weight | 25.4 lbs. |
| Transit Approved | Yes |
Quickie® 2 Ultra Lightweight Warranty