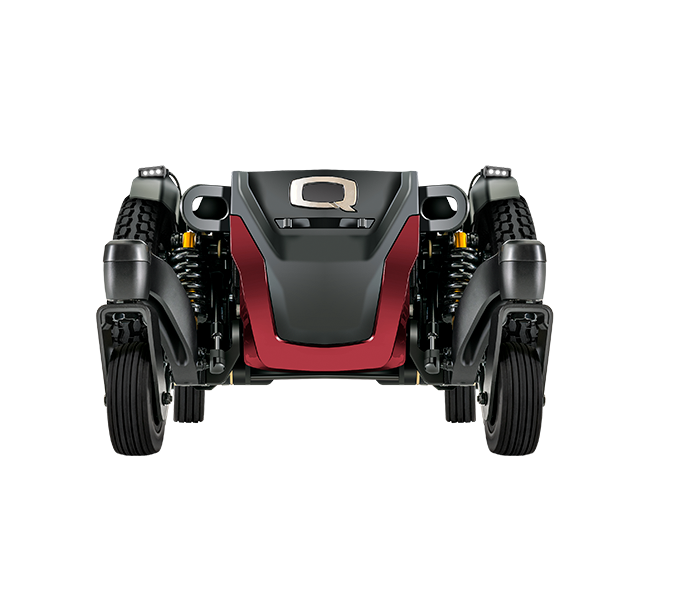 The Edge 3 Stretto® is the narrowest, most maneuverable power base in America! It's perfect for children, teenagers, and small adults to use at home. View more
Why We Love the Edge 3 Stretto® Power Wheelchair
The Edge 3 Stretto® was designed to be a true pediatric wheelchair. While other power wheelchair bases from Pride Mobility can be used for pediatric seating, the Edge 3 Stretto® is the most narrow, with the best maneuverability.
Marking the Stretto as a milestone in pediatric power wheelchairs, it won a 2021 Mobility product award for best Group 3 power wheelchair! It also won a 2020 new product award from HME business.
This power wheelchair comes standard with LED fender lights so your child is seen, and has better visibility themselves. USB charging ports ensure your child's devices stay fully charged, and Smooth Ride Suspension offers a comfortable ride.
FDA Class II Medical Device
Edge 3 Stretto® Features & Benefits
USB charging port

Front and rear LED fender lights

Independent Smooth Ride Suspension (SRS)

Increased shock absorption

Narrowest base on any power wheelchair in America

19 bold color choices

Made in America of foreign and domestic parts
Compatible Seating:
TRU-Balance® Flex Seating
Optional Features
12" iLevel power-adjustable seat height

Toolless access to electronics

Accu-Track Advanced Tracking Technology

Compatible with the Q-Logic 3 EX Drive Controls

WC19 crash-test approved occupied transit kit

Choose between 12.5" or 14" drive wheels
Edge 3 Stretto® Colors
Pretty in Pink

Green Machine

Lemon Crush

Deep Purple

Evolution Orange

Electric Blue

Red Corvette

Midnight Blue

Raspberry Beret

Sugar Plum

White Satin

Grey Street

Back in Black

Cherry Bomb

Blue Jean

Military green

Night Train
Hydrographics
Military Digital Camo

Faded Glory
Edge 3 Stretto® Specifications
| | |
| --- | --- |
| Drive Configuration | Mid-wheel drive |
| Drive Wheels | 14" or 12.5" - Pneumatic or flat free tires |
| Caster Wheels | Front: 5" flat free, Rear: 6" flat free |
| Maximum Speed | Up to 6.25 mph, Up to 2.5 mph with iLevel on |
| Ground Clearance | 2.9" |
| Turning Radius | 21" |
| Overall Length | 32.5" without front riggings |
| Base Width | 21.75" with 14" drive wheels |
| Base Width | 20.47" with 12.5" drive wheels |
| Seating Size - Static Seat | W: 12-20" D: 12-20" |
| Seating Size - Power Tilt | W: 12-20" D: 12-20" |
| Seating Size - Tilt & iLevel | W: 12-20" D: 12-20" |
| Seating Size - TRU-Balance Flex Seat | W: 15-20" D: 15-20" |
| Seat-to-Floor Height - TRU-Balance 3 Static Seat | 16-18" |
| Seat-to-Floor Height - Power Tilt | 17.5-19.5" |
| Seat-to-Floor Height - Tilt & iLevel | 17.5-19.5" |
| Seat-to-Floor Height Flex Seating | 16.5-18.25" |
| Battery Size | 40 AH (2) or NF-22 (2) |
| Battery Weight | 40 AH: 31 lbs. each, 55 AH: 40 lbs. each |
| Battery Charger | 8A off-board |
| Motor Packages | 2-pole, Mid-Wheel® 6 |
| Weight capacity | 300 lbs. |
| Base Weight | 126.4 lbs. |
Edge 3 Stretto® Warranty Information
| | |
| --- | --- |
| Main Frame & Fixed-Position Seat Post | Lifetime Limited |
| Charger assembly, controller, joystick | Two-Year Limited |
| Motor/gearbox assembly & power seat actuator | 18-Month Limited |
| Bearings & Bushings | Six-Month Limited |
| Batteries | One-Year Manufacturer Warranty |